"This new show features 15 comic songs from NC's very rich repertoire. There are the usual favourites – Mad dogs, Stately Homes – but I came across some relatively unknown ones – Bar on the Piccola Marina, Could you please oblige us with a Bren Gun (about the Home Guard in 1943), another on package holidays with the American market in mind and topping it all is that I live some 6 miles from where he was born!!"-Gordon Peters
Past Events
Thora Hird Tribute
---
Plays/Musicals
(July 23, 2011) A Celebration of Flanders and Swann at the Normansfield Theatre.
(June 23, 2007) Afternoon Delight
(May 25, 2007)Comedy Tonite! at the Yvonne Arnaud Theatre.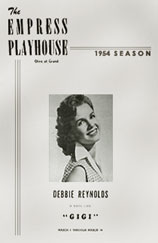 "Gigi"
The Empress Playhouse, St. Louis - March 2, 1954
Gordon Peters as Victor

(Picture and info used with permission of Holly at http://www.debbiereynoldsonline.com/).
"Oliver" (Fagin)
"7 Year Itch"
"Boeing Boeing"
TV Plays
(1972)"Comedy Playhouse" - Born Every Minute (Ticket collector)